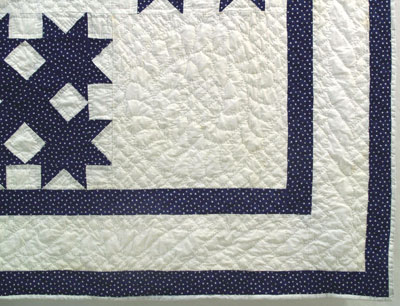 Custom Quilting
A quilt is a fabric sandwich, comprised of a quilt top, batting, and backing. The sandwich is held together by the quilting stitches and completed with a narrow fabric binding to enclose the edges of the quilt.
When our clients request custom quilting, it is usually to finish a family heirloom. Perhaps a relative started a quilt top, but never completed it. Perhaps a treasured quilt has been lost or destroyed beyond repair.
Additionally, if you own a quilt worn past the possibility of restoration, we can also create an excellent copy using reproduction fabrics currently available.
You will be given the choice of using either same date or older fabric for the quilt backing, or appropriate substitutes from current fabrics. Backing fabric can be fine quality muslin, cotton print, or even homespun linen if you desire to replicate a pre-1850's quilt. Bindings are always created from same date or older fabrics, and clients usually pin a piece from the quilt top to indicate their binding choice. All quilting is now completed by sewing machine following only original quilting patterns such as outline, cross hatching, parallel lines, etc. and using cotton thread (linen thread is also available for pre-1850's quilts).
You are an integral part of the custom quilting process, and will be consulted on all choices in fabrics and fibers before any work is started. As you would imagine, each quilt is totally unique. Therefore, it is impossible for me to give estimates before inspecting your quilt top and discussing your vision with you. We have very high standards here at Rocky Mountain Quilts, so keep in mind the cost of the valuable antique fabrics, significant amounts of skilled labor and consultation time necessary to complete your quilt. All finished cotton quilts are treated to a professional hand washing before shipment, at no cost. Of course, all work is fully guaranteed.
Rocky Mountain Quilts
130 York Street
York, ME 03909

Shop Hours


Shop Open Year Round
Hours: Mon, Wed, Fri, Sat 10-4
Other times: Call for Appointment or take a chance and call from the driveway 207-363-6800.

Contact Us
Telephone -
for orders or questions -
1-207-363-6800
Email -
betsey@rmquilts.com
Shipping FedEx address -
130 York Street
York, Maine 03909