About American Antique Quilt Tops
Betsey has chosen antique quilts tops to offer you based on condition, quality, graphics, and color. Antique quilt tops are wonderful used as tablecloths, or folded in a display area.
If you would rather have a finished quilt from your top, you can either complete one yourself or have us custom quilt it for you. Either way, purchasing a quilt top is a great way to own a fabulous piece of textile art!
Click here to view the Quilt Tops
Click here to view the Flour Sacks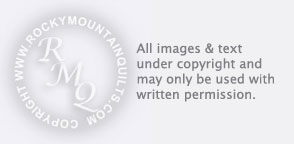 American Antique Quilt Tops
Click on the pictures below to see more views of my Antique Quilt Tops. Shading is due to lighting, not representative of the quilt.
Please call for the availability or any questions.
Flour Sacks 1950 - 1960
10¼ x 18; 20½ x 18 opened
Oklahoma
$15 each
We have a nice variety of flour sacks that were manufactured in the 1950's. Printed labels were attached in the 1970's using potato starch glue for easy removal. The sacks were intended to be used for their fabric after the flour was gone for everything from kitchen curtains and oven mitts to clothing. Many have the patterns with cutting lines printed around the designs. Printed in a variety of color palettes and patterns - contact us regarding other available designs.