About American Antique Quilt Tops
Betsey has chosen antique quilts tops to offer you based on condition, quality, graphics, and color. Antique quilt tops are wonderful used as tablecloths, or folded in a display area. These quilt tops are perfect to be finished by you, by outline machine quilting or by hand.
Click here to view the Quilt Tops
Click here to view the Flour Sacks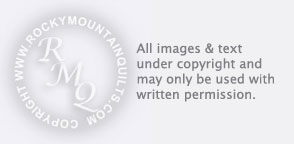 American Antique Quilt Tops
Click on the pictures below to see more views of my Antique Quilt Tops. Shading is due to lighting, not representative of the quilt.
Please call for the availability or any questions.
Feedsacks
c.1920 through 1950's
approximately 36" x 40"
$15 to $45 each
We have a nice variety of full (opened) feedsacks that were manufactured in the 19th century into the 1960s to hold feed, grains and flour for purchase at the local market or grainery. Printed in a variety of color palettes and patterns they filled the need of women for fabric during the Depression and then the war years to make household items as well as clothing. Feedsacks came in varying sizes depending on what was going inside (grains, flour, etc.). Most of ours are over a yard of fabric and all are clean and unused. Call us if you have interest in any of the feedsacks shown below....we have many more and can email you with images of others available with exact sizes.
Rocky Mountain Quilts Shop Hours



Rocky Mountain Quilts hours:

OPEN YEAR ROUND!

WINTER Hours:
(Nov 1 to Apr 30)
Monday-Saturday 10-4
Sunday by chance or appointment

SUMMER Hours:
(May 1 to Oct 31)
Monday-Saturday 10-5
Sunday 12-5

We are also available by appointment

Payment Methods:
Rocky Mountain Quilts gladly accepts cash, checks, Visa, Master Card and American Express. Bank wire transfers are an easy method of payment for both domestic and international sales. If you are traveling, we will be happy to ship your purchases via FedEx at your convenience.
Contact Us
Telephone - for orders or questions -
1-207-363-6800
Email - betsey@rockymountainquilts.com
Shipping FedEx address -
130 York Street
York, Maine 03909