Antique Quilts on Sale & Quilts Under $1000
The antique and vintage quilts in this category have one major thing in common - they are all priced under $1,000 and are wonderful finds for new and experienced collectors alike. Quilts in a wide range of designs from traditional to folk art, and sizes from extra large to sweetly diminutive, can be found here. As with all of our antique and vintage quilts, every quilt on this page is guaranteed for value, dating and condition.
Click here to view the Sale Quilts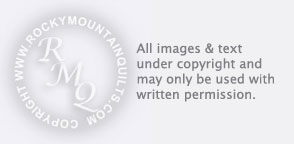 Sale Quilts
Rocky Mountain Quilts Shop Hours



Shop Open Year Round
Hours: Mon, Wed, Fri, Sat 10-4
Other times: Call for Appointment or take a chance and call from the driveway 207-363-6800.

Payment Methods:
Rocky Mountain Quilts gladly accepts cash, checks, Visa, Master Card and American Express. Bank wire transfers are an easy method of payment for both domestic and international sales. If you are traveling, we will be happy to ship your purchases via FedEx at your convenience.
Contact Us
Telephone - for orders or questions -
1-207-363-6800
Email - betsey@rmquilts.com
Shipping FedEx address -
130 York Street
York, Maine 03909