The American folk art style is present in textiles as well as in home furnishings. Antique folk art quilts are wonderfully graphic, naïve pieces of totally original textile art. Sometimes these antique quilts were created by adapting a known pattern in order to free it from its more rigid structure. Appliqued or pieced folk art quilts have unusual configurations of piecing and/or unusual choices of colors and fabrics. A folk art quilt might be embellished with embroidered drawings or paintings, depicting the life of the quilter, such as children?s handprints, houses, farms, or local plants and animals. An antique folk art quilt was usually made from cotton or wool, but very rarely a silk folk art piece will emerge. In these rare cases, a woman might have worked for an affluent family and been given silk scraps for her own use.
True folk art quilts were made to be used, not displayed. Fortunately, many have survived because they were washed infrequently or not at all, and especially not washed in a machine. We are indeed fortunate that the washing machine was not commercially available until the 1950?s, or many of our treasured antique quilts would have been ruined by pragmatic women just trying to do their housework!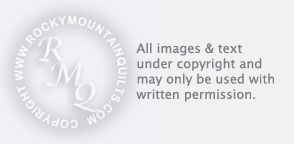 Click on the pictures below to see more views of my Antique Folk Art Quilts. Shading is due to lighting, not representative of the quilt. Call for availability.
Rocky Mountain Quilts Shop Hours



Shop Hours as of May 1:
By Appointment
Mon, Wed, Fri, Sat 10-4
Other times if needed, or call from the driveway 207-363-6800

Payment Methods:
Rocky Mountain Quilts gladly accepts cash, checks, Visa, Master Card and American Express. Bank wire transfers are an easy method of payment for both domestic and international sales. If you are traveling, we will be happy to ship your purchases via FedEx at your convenience.
Contact Us
Telephone - for orders or questions -
1-207-363-6800
Email - betsey@rmquilts.com
Shipping FedEx address -
130 York Street
York, Maine 03909