About American Antique Log Cabin Quilts
Log Cabin antique quilts are one of the most popular patterns in America. Their many variations are created by altering the arrangement of the light and dark fabrics. Log Cabin antique quilts can be cotton, satin, silk, wool, or any combination of these fabrics. We have Log Cabin antique quilts to embellish your wall or display on beds from doll to king size.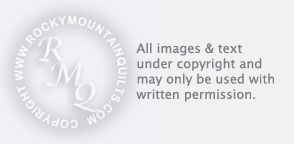 American Antique Log Cabin Quilts
Click on the pictures below to see more views of my Log Cabin Antique Quilts. Shading is due to lighting, not representative of the quilt. Please call for the availability or any questions.
Rocky Mountain Quilts Shop Hours



Our York, Maine antique quilt shop hours

Summer (May 1 to Oct 31)
Monday-Saturday 10-5, Sunday 12-5

Winter (Nov 1 to Apr 30)
Monday-Saturday 10-4, Sunday by chance or appointment

Or call for other times -- we are usually available
Payment Methods:
Rocky Mountain Quilts gladly accepts cash, checks, Visa, Master Card and American Express. Bank wire transfers are an easy method of payment for both domestic and international sales. If you are traveling, we will be happy to ship your purchases via FedEx at your convenience.
Contact Us
Telephone - for orders or questions -
1-207-363-6800
Email - betsey@rockymountainquilts.com
Shipping FedEx address -
130 York Street
York Village, Maine 03909