About 20th Century American Antique & Vintage Quilts
At the start of the 20th century, dark colors were very prevalent in the quilts. American society was deeply affected both by the losses of the Civil War and the cultural trend begun in England by a mourning Queen Victoria. Darkness continued through the devastation of World War I. However, by the mid 1920?s, quilt colors changed from the somber blacks and browns of mourning to a more cheerful palette of pastels made possible by advances in chemical dyes. During the 1920?s, a huge array of solid and calico fabrics was created, celebrating the vibrancy of that decade. With the stock market crash of 1928, those same cheerful colors would become one of the very few ways women could brighten their homes during the hard times to come.
Our collection of 20th century antique quilts and vintage quilts range from the early 1900?s to the 1940?s, include Log Cabin, Double Wedding Ring, Grandmothers's Flower Garden and other patterns, are perfect for adding a cheerful focal point to any home.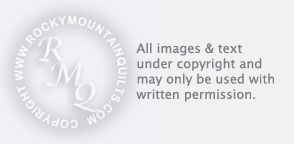 20th Century American Antique & Vintage Quilts
Click on the pictures below to see more views of my 20th Century Antique Quilts. Shading is due to lighting, not representative of the quilt. Please call for the availability or any questions.
Payment Methods:
Rocky Mountain Quilts gladly accepts cash, checks, Visa, Master Card and American Express. Bank wire transfers are an easy method of payment for both domestic and international sales. If you are traveling, we will be happy to ship your purchases via FedEx at your convenience.
Contact Us
Telephone - for orders or questions -
1-207-363-6800
Email - betsey@rockymountainquilts.com
Shipping FedEx address -
130 York Street
York Village, Maine 03909